"

A swordsman with the guitar and a charming songwriter."
— William Prince, singer-songwriter, Juno Award Winner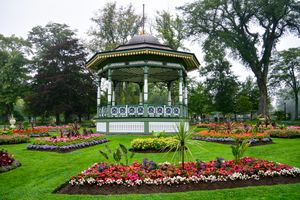 Mike T. Kerr is a wild guitar player and ambitious songwriter of Canadian heritage and American citizenship. During his time at Berklee College of Music in Boston and in over 10 years of performing, he's lived his life through many historical and contemporary musical styles. Always curious to dig up not only a song's history, but the shape of the world at the time, Mike plays passionately and openly while interpreting the great guitar players of the past. A Danny Gatton lick or Django Reinhardt tune is never far from his fingertips.
"Mike is an incredibly engaging performer - present with the audience and entertaining as hell! He is truly a master guitar player - whether solo or in a band context, his playing is astonishing." - Matthew Smith, Managing Director, Club Passim (Cambridge, MA)
Born in Michigan and raised in Ontario, Quebec and Virginia, it's hard to pinpoint exactly where Mike is from. He now hangs his hat in Toronto after being on the road since 2016.
Mike had a brief but boisterous stint based out of Halifax, Nova Scotia. There he fronted The Franklin Brewery Boys, a bluegrass and hot swing ensemble nominated as Halifax's "Best Country Band" in The Coast in 2017. He has appeared on award winning albums by Nova Scotia's Ryan Cook, Thomas Stajcer, and Willie Stratton. Mike has performed at such NS festivals as Deep Roots Music Festival, Full Circle, Folk Harbour Festival, and In the Dead of Winter. In 2018 Mike was nominated by Music Nova Scotia as Musician of the year, 
Currently residing in Toronto, Mike established himself on the local scene by gigging regularly at venues such as The Cameron House, The Dakota Tavern, and The Local Pub. Under normal circumstances, he can be found playing original country music almost any night of the week, or lending his guitar skills to Canadian folk singers such as Corin Raymond, Campbell Woods, and more. Around Ontario Mike has toured with William Prince, Irish Mythen, and Bill Poss.
Mike spends his summer on festival grounds, performing under his own name and accompanying his friends. He has performed at Mariposa Folk, Trout Forest, Vancouver Island Music Festival, the Fred Eaglesmith Charity Picnic, Wild Mountain, Philadelphia Folk Festival, Americanafest, and many more.
Guitar Rags & Country Ballads is Mike's first album, it was recorded and released in 2018. It features 7 original Country songs and 3 instrumentals.
 Expanding the idea of recording guitar instrumentals, Mike has released Spring Garden Bandstand, an 11-track album of solo, instrumental guitar pieces. It features a piece arranged for guitar by Mike and composed by his late grandfather, Dan Leeman, who got to hear the album and see videos of Mike performing on his favourite bandstand in the Halifax Public Gardens. Dan passed away at the age of 96 in April 2022.
Spring Garden Bandstand is available for sale now on digital and vinyl.
What the songwriters are saying:
"I love the timelessness of Mike's tunes. You feel like you are listening to a classic country hit when country was at its finest. Simultaneously heartbreaking and heartwarming!"
- Dana Sipos
"The first time I heard Mike Kerr play, it took me back to when I was first learning guitar and everything was new again. He floored me with his effortless, yet, razor-sharp playing. It shook up everything I thought I knew and has made me strive to be better ever since. I've started practicing my fingerpicking again because of Mike. Humble, charming and impossible to tire of, his playing and songwriting draw from multiple eras that will surely leave you impressed. You can tell in the first 30 seconds that he has an unbridled passion for guitar playing. A true gentleman." - William Prince 
"Classic and simple and full of melancholy delivered with a grin. Danny Gatton meets Hank Snow. What more do you need?" 
- Campbell Woods